Tomb Raider: Underworld - Review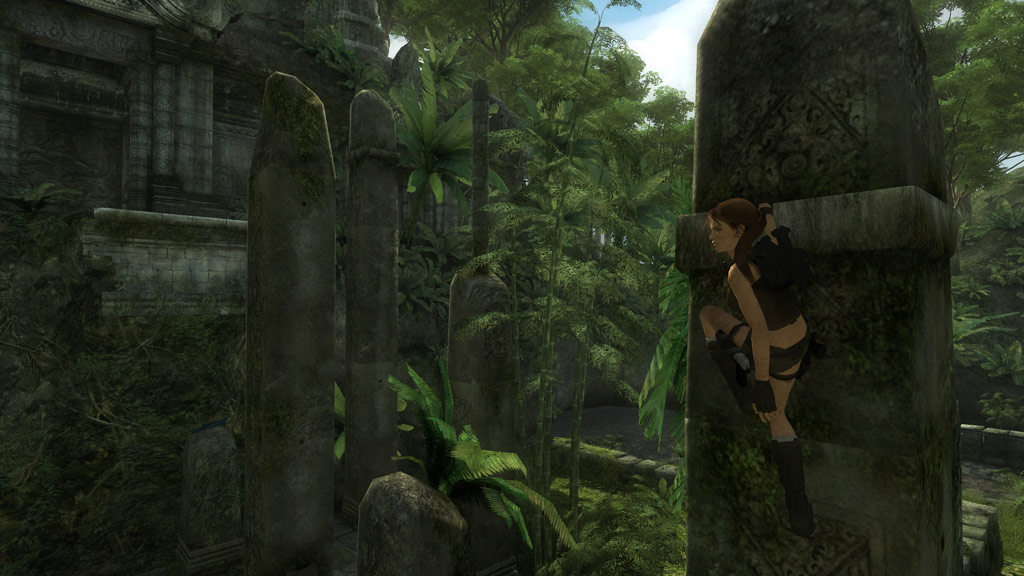 Before Crystal Dynamics took hold of the franchise, Tomb Raider was in dire straits. The downward spiral had finally reached the bottom, and you'd be forgiven for wondering if we'd ever see Lara Croft return to relevancy again. But just like that, Legend was released and all was forgiven, with a tighter knit, better polished, and more cinematic Tomb Raider than we had seen in years. The follow-up, Anniversary, reworked the original TR with a modern engine and a handful of additions and fixes to polish it off into something that, while not quite the hit Legend was, set the stage for the final game in the trilogy, Underworld, which fully showcases all the CD was aiming for by combining the best parts of their past two games into a fitting end to their first run with Lara, and a solid game in its own right.
Underworld is a direct sequel to Legend, which means if you haven't played the latter (and preferably Anniversary as well), you're going to quickly become lost in a sea of supernatural monsters, returning characters, and a plot that bites off quite a bit more than it can chew.
All that said, it finally answers most if not all of the questions proposed by the last two games, finally giving Lara some closure for all that's happened up to this point, as well as for the trilogy, allowing CD free control to go wherever they like with a sequel. It's not going to blow your mind or keep you thinking about it after the credits role, but the narratives blockbuster mentality is more than enough to entertain and carry the game through to the end (provided you don't stop to think about why anything is happening alone the way).
While Legend focused more on style and set pieces, and Anniversary on classic tomb raiding and puzzle solving, Underworld finally manages to meld these two halves almost perfectly, creating what I would consider the truest expression of Tomb Raider Crystal Dynamics has made. The mechanics have been expanded significantly from past games, with platforming in particular getting a much-needed upgrade thanks to Lara's larger move set, which feels far more natural and free form than what we've seen in the past as well as allows for a greater amount of variety in the level designs.
The levels themselves have also gotten a boost, now on an outrageous scale that towers above you as you attempt to work your way through them, populated by more elaborate puzzles and a ridiculous number of hidden collectibles to find. Everything that Tomb Raider is known for has been improved and taken on a new scope, but in a similar vein, all the has been wrong with the series for years has been entirely neglected.
Combat, though moderately improved, is still as mindless and unsatisfying as ever. The camera continues to be your worst nightmare, seemingly out to make navigating through levels a living hell and often sending you jumping off in entirely the wrong direction. Numerous frustrating glitches make themselves known throughout, from harmless bugs to aggravating mishaps that make progression incredibly difficult. Most disappointing though is how the level designs can often get ahead of themselves, leaving you scratching your head at the enormous size of them without the slightest idea where to begin. The hint system certainly helps in this regard, but it's an imperfect solution, and ideally one you shouldn't ever need to rely on.
Final Word
---
If you have ever played a Tomb Raider game before though, none of this should surprise you. As I said before, Crystal Dynamics has built up what the series does best, while quietly ignoring its issues perhaps hoping they'll be overshadowed or ignored. Personally I'm more than capable of putting up with these annoyances in exchange for the rest of the experience, but I'm definitely beginning to ask myself why I'm OK doing this, or if I should have to (the answer for which is obvious). If you didn't enjoy Legend or Anniversary you will find nothing more to draw you into Underworld, but for those who have yet to tire of Lara's escapades Underworld provides a fitting final chapter in this particular story of her life, if also a signal that it's probably time to move onto something new.
---
Tomb Raider: Underworld
was developed by Crystal Dynamics and is available on PC, Xbox 360, and Playstation 3.