Castle of Illusion - Review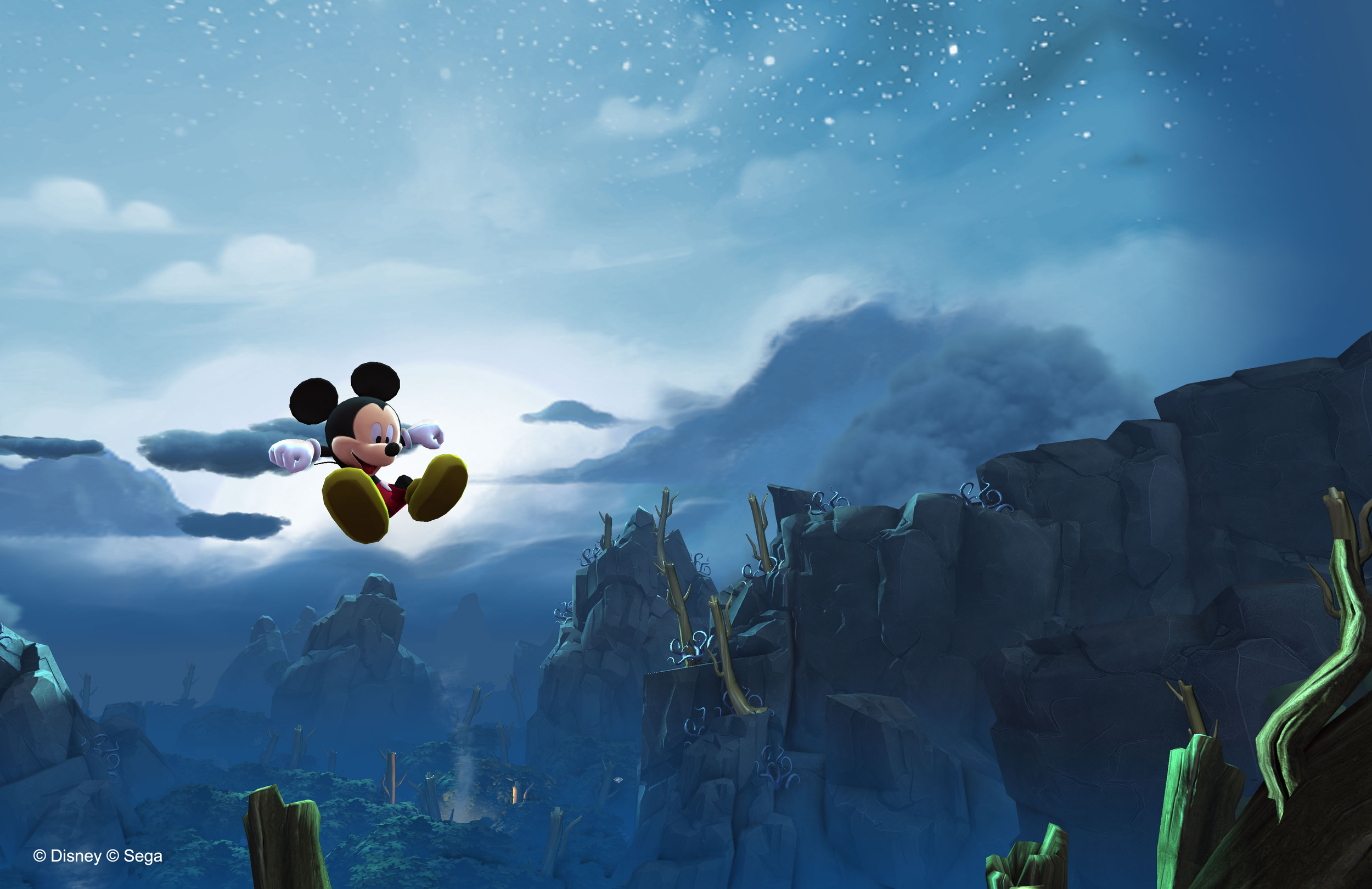 Perhaps I'm just a cynical bigot blinded by nostalgia, but in my eyes Disney has lost quite a bit of its magic in recent years. Instead of the delightfully imaginative works of their glory years, we've been "treated" to an abundance of derivative shovel-ware and cash grabs, all relying on their branding and marketing instead of actual quality to make them a success. A remake of the Sega Genesis/Mega Drive classic, Castle of Illusion could have very well been just another mediocre licensed game, but to my absolute surprise and delight it is anything but; a whimsical joy of a platformer that pays homage to Mickey's past, while bringing him into the modern-day just as enjoyable as we remember him. Opening like the typical fairy tale it is, Mickey and Minnie are just setting out for a picnic when the witch Mizrabel spies the pair and gets jealous, swooping in and kidnapping Minnie, with the goal of using the damsel's youth and beauty to rejuvenate herself from the old hag she is. Mickey will have none of this however, and thus enters the titular Castle of Illusion to obtain the seven magic gems, cross the rainbow bridge, and get his girl back!
Like the 1990 original, Castle of Illusion is a basic platformer whose strength lies in its imaginative levels and environments. Each stage is unique and bustling with creativity, from a giant library full of bouncing letters and slinking bookworms, to a world made entirely out of sweets that has you swimming through jello and bouncing on cookies floating in a milkshake river. There are so many charming little touches in every location you traverse that I couldn't begin to name them all (and doubt I saw even half of them).
Sega perfectly captured the happy-go-lucky mannerisms of Mickey, right down to the trademark hop in his step and chip of his voice, an attention to detail which extends to every secret area and extra path, and makes for an immensely enjoyable game. I gleefully made my way through every level never once tiring of the seemingly endless stream of fantastical places I was sent to, but alas every good thing must come to an end and Castle of Illusion does so all too soon.
For all its wonder and the many things it gets so very right, Castle of Illusion is over in a heartbeat (around 2-3 hours to be exact). This short-live adventure seems to end even more abruptly, do to how easy it is to jump from one level to the next and how quickly and seamlessly they flow together. In a sense it's about as long as the average animated movie (which almost seems intentional, opening and ending with the camera panning out to a theater), but for a $15 game it had me wanting more.
Final Word
---
I say that however with the caveat of wanting more because I loved my brief time with Mickey so much. Castle of Illusion is a pleasure and has given me hope that Disney is still capable of creating something with as much heart and wonder as what made them a household name in the first place. If Mickey Mouse has ever meant anything to you, you owe it to yourself to play this lively tribute that does as much for giving the icon a proper video game outing, as it does a starting point for what could (and hopefully does) come out in the near future. It's pure childish fun that capitalizes on its goal of being a lighthearted game that almost anyone can enjoy, recapturing the magic of yesteryear for the new and old generation alike.
---
Castle of Illusion was developed by SEGA and is available on PC, Xbox 360, and Playstation 3.